Brief Outline of Seminar:
This weekend seminar offers an introduction to working with couples for counsellors and psychotherapists wishing to explore this fascinating area of work. Through teaching and experiential work, including role-plays and skills practice you will gain some insights and tools to work with couples.
Content covered:
An introduction to working with same and other sex couples
Common presenting problems, such as differing sexual desire and managing conflict in relationships
A consideration of the therapeutic meaning of clients' presenting issues
What may be achievable in couples work
A presentation of different models of couple work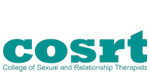 This CPD Seminar is endorsed by COSRT with 12 CPD hours. You will be awarded with a CPD certificate at the end of the seminar.
About the Facilitator:
Cabby Laffy has worked as a psychotherapist, psychosexual therapist, and supervisor since 1991. She works with individuals and couples and has facilitated many trainings and workshops. She is the Director of the Centre for Psychosexual Health, has developed, and teaches a Diploma in Integrative Psychosexual Therapy.
Cabby has also worked for many years as a clinical supervisor for complementary health practitioners working in the community. She is a UKCP registered and NCP accredited psychotherapist, a psychosexual therapist and group facilitator. Cabby is a member of PCSR and COSRT, and has written a book about psychosexual health called LoveSex (Karnac, 2013).
Cabby also runs an eight day certificated course in 'Working with Couples' at The Awareness Centre.
Fee:
Two day seminar £250
*Early bird offer: Book before Friday 24th April 2015 and pay only £225
Dates:
Saturday 6th and Sunday 7th June 2015, 10am – 5pm
Venue:
The Awareness Centre, 41 Abbeville Road, London SW4 9JX. Click here for details on how to find us.
If the CPD Seminar is showing as fully booked, please email manager@theawarenesscentre.com stating which date you are interested in to add your name to the reserve list.