Couples Counselling Training
Diploma in Working with Couples
Aimed at qualified therapists and delivered face-to-face at one of our centres located at Clapham, Tooting Bec and throughout South London, this one-year Diploma provides the training that is needed to confidently offer therapy with couples.
The Awareness Centre is a long-established therapy centre and training provider. All teachers on our Diploma are fully qualified and accredited couples therapists (COSRT), with a primary focus in relationship therapy practices. The Diploma devised by mental health professionals provides 120 hours of face-to-face training in couple work.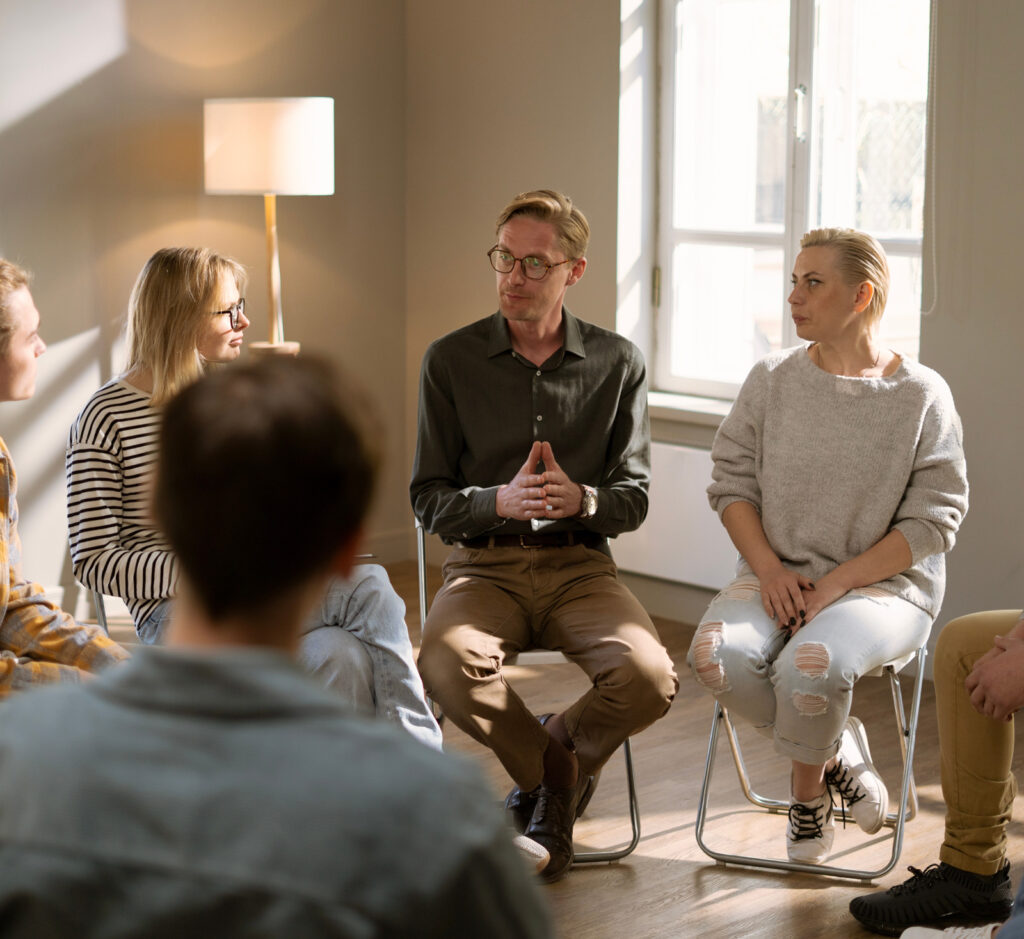 Complete the form to enrol on the next available intake for Diploma in Working with Couples and receive face-to-face teaching. From there you will be provided with an enrolment form and invited to an interview.
Email: [email protected] 
Tel: 020 8673 4545
Next Intake
September 2023
Alternate Fridays (10:00am – 5:00pm)
Starts 8th September 2023
Enrolment open
The Couples Counselling Training Includes:
Working with couples is becoming a popular and fast-growing area for therapists to train and add to their skill set.
Studying on our couples counselling course fortnightly allows the diploma to be easily incorporated into your existing routine as a therapist. Here is what you can expect to cover in the course:
What is a couple and what constitutes a couple/relationship in the binary and non-binary sense
Develop an awareness of both conscious and unconscious motivators that individuals bring to being a couple
Become adept at working with two people compared to individuals
Explore some of the theoretical models that are found to be effective in working with couples
Grow your ability to work with a variety of presenting issues particular to working with couples
Explore the role that communication plays in the life of the couple and learn new ways to help couples improve this important aspect
Identify and develop your own philosophy and approach to counselling couples, based on your own training and/or modality
Work with case studies to improve your skills and insight into couple's work
Practise the skills you will need to be confident in working with couples
Develop your professional skills and grow your practice with a Diploma in Couples Counselling from The Awareness Centre. Gain the vital knowledge and experience you need by enrolling today.
How to Apply
Complete the form to enrol on the next available intake for the Diploma in Working with Couples and receive face-to-face teaching.
Contact our Training Team to enrol on the next available intake for Couples Counselling Training at TAC
What is the Structure of Our Couples Counselling Course?
The couples counselling training course will take place two Fridays per month over the course of 11 months. Hours are 10.00am to 5.00pm which equals a total of 120 hours (Diploma level).
What is the Cost of Our Couples Counselling Training?
The Diploma fee is £2,990 for 120 hours of hands-on training from our qualified relationship experts. This can be paid monthly via direct debit. For a limited time only, we are offering a 10% discount on the total price if you pay the full cost upfront.
10 Benefits of Couples Counselling Training With The Awareness Centre
Couples counselling is a great way to broaden your skills and develop your counselling practice in new ways. Looking into and providing support for the difficulties many marriages and relationships face can be hugely rewarding for talented therapists. Here are a few other reasons why you should consider Couples Counselling Training from the experts at The Awareness Centre.
To become skilled and experienced in working with couples
To gain professional qualifications at Diploma level
To gain at least 100 hours of couple's client-work experience
Develop as a therapist through supervision with a specialist couples supervisor
To be taught by highly experienced and qualified tutors who are specialist couples and relationship therapists
To learn in a group setting alongside other practising therapists
To study in a vibrant therapy practice where you also have the possibility of doing your client experience hours
To gain relevant qualifications and client hours that can lead to further professional registration and/or accreditation
To build and develop your own practice
To grow as a therapist
How Do I Enrol for the Diploma in Working with Couples?
Enrolling for couples therapy training is simple:
Submit a short paragraph stating your experience & aspirations in counselling couples, along with a copy of your CV
Conduct an online interview with the Programme Manager
Upon being offered a place on our next intake for couples therapy training, sign the Learning Agreement and make the payment (either a deposit or payment in full with 10% discount)
The eligibility criteria for couple therapy training is as follows:
Fully qualified, practising therapist (qualified to Diploma level as a minimum) that is registered with a recognised membership body (eg BACP, UKCP, NCS etc.)
A minimum of 1-year proven experience in counselling or equivalent, post qualification
Personal maturity and capacity to challenge your reflective learning curve
Contact our Training Team to enrol on the next available intake for Couples Counselling Training at TAC
How Will I Be Assessed?
Two 3,500-word assignments
Attendance (80% minimum required)
100 supervised clinical hours with couples
Each one of the four assessment areas for couples therapy training carries equal weight (25%) and must be successfully passed (60%) to be awarded the diploma.
Couples Counselling Training: Course FAQs
Is the Diploma Accredited for couples therapy training?
Yes, you will gain professional qualifications at a Diploma level.
Are there any additional fees to consider for couples therapy training?
Resubmission of assignments
Supervision with a qualified couples supervisor
Support with academic writing (this is optional)
What can I expect from couples therapy training in practice?
With the couples counselling training at TAC, you can expect to be led by experts in delivering high-quality couples therapy using the most appropriate techniques. A combination of face-to-face teaching and clinical practice will help you develop the skills you need to become confident in working with couples in all types of relationships.