The Foundation Certificate in Counselling
Learn about and gain first-hand experience in counselling with our Foundation Certificate.
If you're thinking about changing your career, taking on voluntary work, enhancing your career prospects, or taking the first step to becoming a professional counsellor, our one-year, part-time Foundation Certificate could be the perfect course for you.
What you'll learn:
Develop your interpersonal and communication skills

Develop your self-awareness

Improve your interactions with others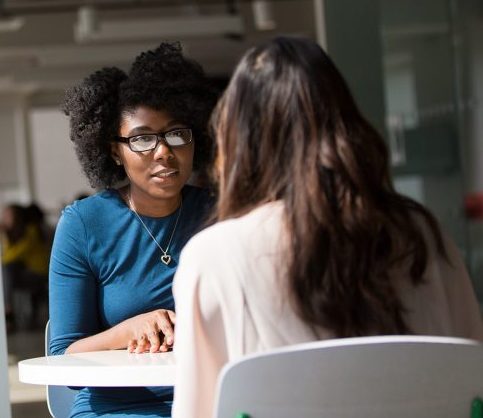 Is the Foundation Certificate right for me?
The Foundation Certificate course is suitable for many careers, particularly those where interpersonal and communication skills are important in building great relationships with your colleagues and clients.
In particular, the careers that would be excellently suited to the skills learned on the Foundation Certificate course are: 
HR professionals

Healthcare professionals

Learning and development specialists 

Social workers

Youth workers 
And many more. 
PLEASE NOTE: All training and interview workshops are currently online, to ensure the safety of students and staff. The Training School will return to face to face as soon as possible, following the guidance from the UK Government, Public Health England and the British Association for Counselling and Psychotherapy (BACP).
Course Details
The Foundation Certificate is a one-year, part-time course.
Depending on the intake, the Foundation Certificate will run on either weekday evenings and/or weekends at our Training School in Clapham or Tooting.  The course fee is £2150.
Next Intakes
September 2021 to July 2022 – Wednesday evenings at TAC Clapham
January 2022 to November 2022 – Weekends at TAC Clapham
What Does The Course Include?
The course comprises 100 guided learning hours and consists of three modules. 
The Foundation Certificate in Counselling is delivered over 11 months, and has both weekend and weekday evening options available, to suit your schedule:
Learning at Weekends
Attend once a month, Saturday and Sunday, from 10:00-16:00.
Learning on Weekday Evenings
Attend once a week, 18:00-21:00.
Book Your Interview
To start enrolment, the first step is to book an interview: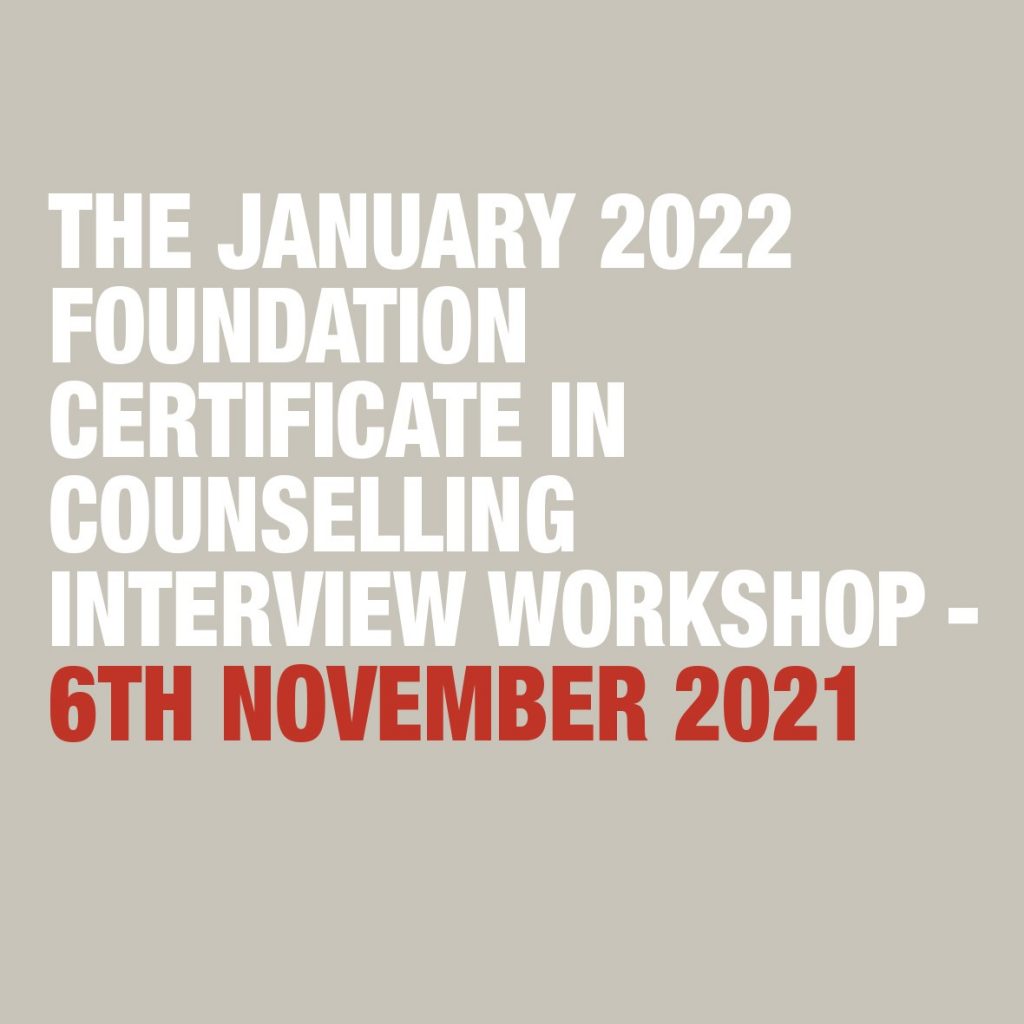 January to November 2022 –
Weekends at TAC Clapham.
Enrolment not yet available.
You will receive a solid theoretical introduction to counselling, as well as opportunities to put this knowledge and skills into practice.
You will develop a range of interpersonal relationship-building skills to sensitively address the needs of others, while retaining clear professional and personal boundaries. 
Self-awareness and personal development are vital components of the training, facilitated through personal and professional development activities. 
See what our previous students have to say about the course.
The curriculum is taught via theory lectures and discussion groups.
This is supported by skills practice workshops and personal development activities.
The learning will be conducted through the process of reflection on academic study, the skills practised and insights gained from the scheduled personal development activities throughout the training. 
Module 1: Helping and Counselling 
This module focuses on developing your understanding what counselling is and is not, and includes:
What do we understand by counselling?

How does counselling differ from others forms of helping?

Who can be helped by counselling?

Standards and ethics in counselling.

The 'core conditions' of the person-centred model in counselling.
Module 2: Ethics / Basic Human Development
This module introduces the BACP Ethical Framework for the Counselling Profession (2018) and provides an overview of some key contributors in the field of basic human development:
The BACP Ethical Framework for the Counselling Professions (2018).

Maslow's Hierarchy of needs.

Erikson's psychosocial model.

Freud's psychosexual model.
Module 3: Modalities of Counselling
This module discusses a range of popular theoretical models, including:
Gestalt Therapy

Transactional Analysis

Psychodynamic Therapy. 

Cognitive Behavioural Therapy (CBT).
The module ends with an introduction to clinical supervision in counselling.
The Foundation Certificate in Counselling is delivered by experienced counselling professionals. 
Upon successful completion of The Foundation Certificate in Counselling, you will be able to apply for a place on The Awareness Centre's two-year Diploma in Integrative Counselling.
Perfect for those that want to pursue counselling as a career, the Diploma gives you access to in-house placements and supervision as part of the course. This helps you to put your learning into practice and to take on real clients. We also bring in leading, expert guest lecturers for each theory module, so you can learn from the best. 

We will continuously give you assessment opportunities throughout the training to track your progress and learning.
These include self-assessment, peer and tutor evaluation as well as two written assignments of 2,500 words.
You do not need any previous experience or qualifications to enrol on this course. 
We just ask that you:
Have a good command of spoken and written English.  

Have attended an Interview Workshop at the Training School, or previously completed an introduction to counselling course. 
A counselling course can be quite demanding and personal, which can be an emotional challenge, so we ask that you undertake personal therapy as part of this course.
We ask for a minimum of 6 sessions during the training (more info on this under 'Are there any additional fees?').
As some of the training will be delivered online, we ask that you have a reliable internet connection.  
Enrolment: £35, a non-refundable fee.
The Foundation Certificate in Counselling: £2150. A non-refundable deposit of £400 to be paid once you are accepted onto the course.
You can pay for the course in one lump sum of £1935, offering a 10% discount of £215. Or you can pay in monthly direct debits spread across the duration of your study, after paying the £400 deposit.
Additional fees not included in the course fee are as follows:
Personal Therapy
Your own personal therapy will be an additional cost to you during the course.
Your personal therapy:
Must be for a minimum of 6 hours during the training.

Must be with a practitioner who is registered and accredited with a recognised body (such as the BACP or UKCP).

Should ideally be with a practitioner who works using an integrative approach.
Academic Writing
The Awareness Centre works with the On Your Team group of coaches and editors to give its students access to tuition in academic writing.
Fee structure: On Your Team offers one-to-one coaching in academic writing at an hourly rate of £50, and editing for typical fees of:
£65 to £80 to edit a 2,500-word essay
£85 to £120 to edit a 3,500-word essay
Choose the coaching option if your essay drafts need substantial editing and restructuring.
Wednesdays, September 2021 to July 2022.
Application deadline 30th June 2021.
All training is on Wednesday evenings from 6.00pm – 9.00pm. Training is currently online, but when we return to face-to-face, it will continue at our Clapham centre.
Weekends, January 2022 to November 2022.
Application deadline 3rd November 2021.
All training takes place once a month from 10.00 – 4.00pm on weekends. Training is currently online, but when we return to face-to-face, it will continue at our Clapham office.
Further Information
For further information, please email please contact our Training Administrator Dan Smith on [email protected] or call 020 8673 4545.