Diploma in Integrative Counselling
If you already have a Foundation Certificate in Counselling and are looking to qualify as a professional counsellor, this face-to-face two-year part-time course is your key to future success. Offering face-to-face training in specific counselling approaches and education about a range of presenting issues, TAC's Diploma in Integrative Counselling is one of the leading expert-led courses in London.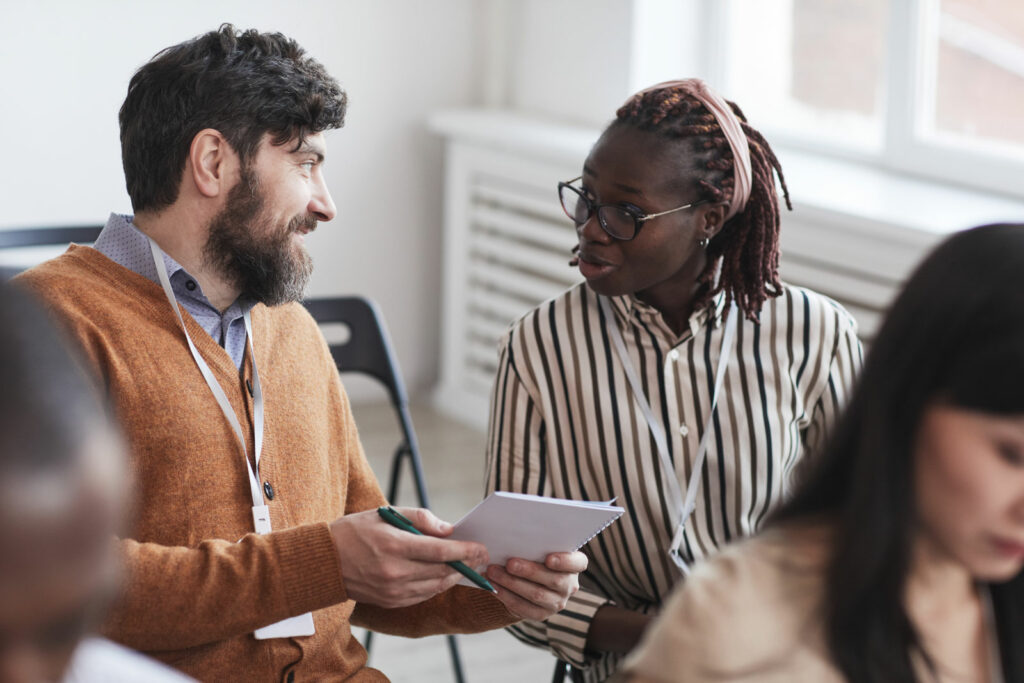 Complete the form to enrol on the next available intake for our Diploma in Integrative Counselling and receive face-to-face teaching. Our courses can become oversubscribed, so we encourage early enrolment. Places on each intake will be offered to applicants on a first-come, first-served basis.
Next Intakes
April 2023
Evening
Fully Subscribed
April 2023
Daytime
Fully Subscribed
September 2023
Monday and Wednesday evenings (6.00pm – 9.30pm)
Starts 13th September 2023
Enrolment open
Integrative Counselling Course Benefits:
All of our courses at the TAC Training School are designed and run by specialists in the field. Integrative counselling courses allow those with a Foundation Certificate in Counselling to further their qualifications and train as a professional counsellor.
With our Diploma in Integrative Counselling, you will:
Become qualified to work as a counsellor through face-to-face teaching
Learn about a range of humanistic, psychodynamic, and solution-focused approaches and how they apply within Petrūska Clarkson's five-relationship model
Have the option to apply for a counselling placement in-house or externally, where you will gain clinical experience
Enhance your ability to provide both short- and long-term therapy for a variety of presenting issues
Become adept at developing and maintaining a therapeutic relationship and making more informed choices about appropriate counselling interventions
Develop awareness of conscious and unconscious motivators in counselling work
Create and develop your own philosophy and approach to integrative counselling
Deepen your personal development and get a better sense of yourself on the journey to becoming a qualified counsellor
The Diploma in Integrative Counselling is delivered in six modules across two years, which are designed to give you a comprehensive overview of the role of integrative counsellors, how to develop therapeutic relationships and more. 
These modules include:
A comprehensive curriculum taught via theory lectures, seminars and weekend workshops

You'll study Petrūska Clarkson's relational model of therapy, which explores five facets of the therapeutic relationship:

The working alliance

The person-to-person or real relationship

The transference/counter-transference relationship

The developmentally needed or reparative relationship

The transpersonal relationship

Therapeutic skills sessions and personal and professional development work

Opportunities for cultural, personal, group and theoretical reflection

Education about a range of presenting issues, including addiction, anxiety and depression, loss, risk, transcultural issues, and gender and sexuality.
Integrative Counselling Course Assessment
The TAC Integrative Counselling Course is assessed through a number of written assessments on top of personal therapy sessions and peer reviews. Your general progress and attendance will also be monitored on this course to ensure you have everything you need for your success in integrative counselling on completion of the course. 
To complete the course you will be required to:
Attend 80% of the training

Demonstrate satisfactory progress in your ability to meet the demanding requirements of the course and your potential to carry out clinical work on placement

Show development of theoretical understanding and growth/awareness in counselling skills practice, personal development and group process. This will be measured through self-assessment and feedback from your tutor and peers

Complete and pass five written assignments (2,500-3,500 words each)

Attend end-of-module tutorials

Have 80 sessions of personal therapy with a qualified integrative practitioner
Please note that time commitment is around 20 hours per week.
Contact our Training Team to enrol on the next available intake for the Diploma in Integrative Counselling and receive face-to-face teaching
Diploma in Integrative Counselling: Course FAQs
We ensure that all of our tutors are experienced counselling professionals. During the counselling course, you will attend face-to-face skills workshops and lectures provided by our specialist faculty members. We strive to provide you with the most valuable training experience possible. Find out more about the faculty here.
Who can apply for integrative counselling courses?
Those who have previously completed a Foundation Certificate in Counselling with The Awareness Centre (TAC) or an equivalent Certificate training with another organisation.
When does the Diploma in Integrative Counselling Course start?
This is a two-year, part-time course that runs on two evenings per week (6.00pm to 9.30pm) or one full day per week (9.00am to 5.00pm), plus two one-day weekend workshops per term at one of our training locations located in Clapham, Tooting Bec and throughout South London. Overall, this makes up 450+ guided learning hours over two years. We have intakes starting every April and September, so there is always a course available to suit you.
What is the cost of integrative counselling courses?
The overall counselling certificate course fee is £12,595 (including 20% VAT). We offer a 5% discount on the total price if you pay the full cost upfront. Alternatively, you can pay via a deposit of £1,000 and 18 monthly direct debit instalments.
When can I enrol on the Diploma in Integrative Counselling?
Our intakes start every April and September, so there is always availability for students wishing to enrol. Please complete the online enrolment form and a member of the training team will be in touch to discuss options and next steps.
What is an integrative approach in counselling?
An integrative approach to counselling and psychotherapy involves looking beyond typical counselling perspectives and helping clients to learn more about the deep-rooted causes of their issues. During the course we will study different therapy models to give students a wide-reaching overview of varying specialist perspectives.
How much time can I expect to give to the course?
Taking into account background reading, attending lectures, workshops and personal therapy, as well as clinical work and supervision, you can expect the course to take up to 20 hours per week.
What's involved in the enrolment process?
You will be asked to complete an enrolment form and a personal statement online. You will then be invited to an online interview with a senior member of the Training School team. The interview is structured to give all students a similar experience. You will be asked questions to ensure that you have a secure grounding in counselling skills, as well as the time availability and emotional maturity to be able to commit to making the course a success.
Course Supervision (12 x Group and Individual): £900 per year, payable direct by arrangement with your TAC Course Supervisor.
Resubmission of assignments – £50 per paper.
Student BACP Membership registration – £86 a year.
Personal Therapy – varies depending on Therapist.
Student Indemnity Insurance for counselling placement– varies depending on provider.
Enhanced DBS for counselling placement – varies depending on placement provider.
Academic Writing Assistance
TAC works with the On Your Team coaching and editing group and Ash Phipps to give students access to tuition in academic writing.
On Your Team offers one-to-one coaching in academic writing as well as editing services.
Ash Phipps has 10 years' experience teaching study skills strategies to students with SpLDs (dyslexia, dyspraxia, ADHD, ADD, Autism).
Both offer set or hourly rates to support the academic writing of your assignments.
For any further questions, please email [email protected]
For any further questions about the Diploma in Integrative Counselling, please email [email protected]