Is it love or lust you are feeling? Or both? And what does it matter?
The average marriage in the UK lasts 11 years. Could this be because we value passion over companionship, and are confused about the difference between love and lust? And can we fix this?
You could argue that both love and lust are an altered state of consciousness derived from the primal urge to procreate. But there is a difference. Most of us have experienced an instant 'rush' when we meet someone new. And then there's the kind of feeling that begins as attraction or admiration and develops into stronger feelings over time. How do we know if what we are experiencing is the lifetime kind of love, or just plain lust?
How To Differentiate Between
Love

And

Lust

Most people would describe love as feeling strongly attracted to someone else, and finding them overwhelmingly desirable. This, however, is lust.

Lust is an initial physical attraction to another. It is intense and overwhelming and driven by pheromones. That mad attraction arises from an, unconscious, sense that they are a good genetic match and would provide us with strong, healthy offspring.

Lust is all about the survival of the species. It's not about long-term compatibility, or living happily ever after.

Lust is about the self about 'me'. What can I have? I must have you! Then my life will be better

Love is not that immediate feeling. It takes time to develop and involves compromise and commitment.

Love is more selfless, about the other, about 'you'. How can I make your life better?

Yet our culture values passion above all else, and is full of images and stories about how passion keeps you together. And how you deserve the perfect life of eternal passion. The trouble with this narrative though is that 'better' resides outside of us; it is in that perfect person we haven't met yet, somewhere, if only we can find them.

This valuing of hot lust over warm and comfortable love can foster the idea of there being other fish in the sea, and if your current relationship isn't giving you that intensity, you can always leave it and there'll be something better over the horizon.

Instead of setting to work and investing the time and energy to bring a relationship to life, you begin to doubt whether your significant other really is the "right" one. Perhaps you'd be better off with that hottie at the bus stop?

The idea that lust is better than love can actually stop you from committing. You will be doomed to eternally look outside yourself for someone who can 'make' you happy. But if it is love you are looking for, then that is something that you can find within, it's something already in your domain that you can decide to work on with your chosen other.

Love is something unique to you that you can create once you decide to work with what you already have.
The four skills you need to achieve lasting love
'Love blindness'

Recent discoveries in neuroscience have pinpointed the ability to idealise and maintain positive illusions about your partner as the one common factor in relationships that last over time. 'Love blindness' is the feeling you have in the first flush of love when you think they are the best-looking, cleverest, most all-round fantastic person in the room.  Months in, you might have a more nuanced view of their attributes, but sustaining this bias to your partner is a critical factor in maintaining long-lasting love.

"Self-expanding" activities

As the years roll by boredom becomes the enemy of lasting romantic or companionate love, and the couples who last longest are the ones who find ways to keep things interesting. Psychological research suggests that the most intense love is experienced by couples who enjoy participating in new or challenging "self-expanding" activities together.

Zest for life

A 2012 study of the personality qualities that predicted long-term love found that people with excitement for what life has to offer were more likely to have successful romantic partnerships.

Maintain independence

Any hint of neediness, that you are looking to your partner to be your caretaker to give you safety, security and stability can kill that love spark. But, if you continue to pursue individual interests and activities, which you enjoy apart from each other, you will continue to see each other in a new light.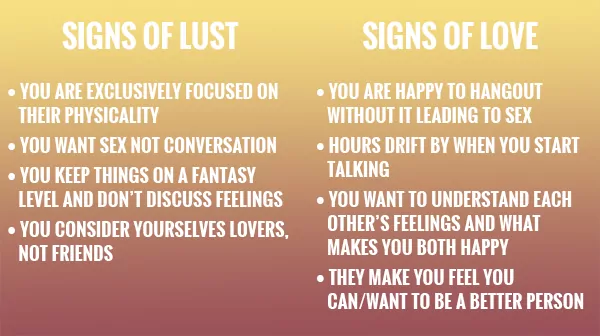 If you feel you need help getting your relationship on track, we have a team of relationship counsellors who can help. Call 020 8673 4545 or email [email protected] for a confidential appointment.